Industries
Everyone needs a great Mapping GIS App!
GeoData Explorer truly delivers something useful for almost all mapping and field data use cases and industries.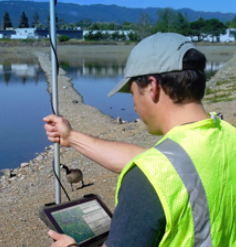 GeoData Explorer is a great companion app and addition to your surveying total station and other gear.  Run it on a laptop in your vehicle or carry it around on tablet and check your survey measurements, add notes to location and perform measurements.  Load orthophoto-aerials, satellite imagery and reference GIS layers to your survey measurements.  
GeoData Explorer works wonders in helping to be a tool to protect and defend natural areas.
Manage resources, check the weather
Rapidly view reference GIS layers and collect /draw points, lines or polygons, or buffer areas
Great for Wildlife Biologists, Researchers, Game Wardens and Rangers and Fish and Game/Wildlife Personnel 
Manage park/preserve/forest assets, view hillshade and contour lines 
GeoData Explorer is great for land development, commercial real estate and property management companies. 
 View reference GIS datasets for quickly checking parcels, landuse, zoning, development boundaries, lakes/rivers, easements utilities, rights of ways, the location of assets, fire hydrants.  Use the drawing and painting/annotation tools.  Use the measurement tools.
We sell offline and online parcel data or connect to your local Counties property appraiser GIS system. 
Real Property and Facility Assets can be displayed and managed
Connect to your enterprise asset management system (ArcGIS FeatureServer or MapServer or OGC WMS) or offline geopackage/filegdb,shp and quickly visualize assets, add attributes to data, perform measurements and analysis.  Overlay other important data layers.
Homeland Security, Paramilitary, Defense forces and the Intelligence Community can greatly benefit from GeoData Explorer's rapid data visualization and mashup of local and internet data and control over the display (order, opacity, labels). Use the Split feature to swipe between different layers. Compare two periods of satellite imagery or satellite imagery with other base data.  Overlay Military Grid Reference System and display coordinates.
Non Government Organizations that are in the field in hard environments or planning to send can rest assured they have a platform to visualize data and keep context.  Includes What3Words (PlaceCode/OpenLocationCode Coming Soon!) as well as coordinates and Grids in many formats. Mark locations and easily copy and paste that location data. Search Attribute records. Quickly make print of the map for sharing
Support your Smart Precision Agriculture and Farming and Range Business with GeoData Explorer's great features. Quick and easy digitizing data and dropping marker and assigning attributes.  Overlay import reference data and weather.
Emergency Management Planning, Post Disaster recovery, and response efforts.
When you can't depend on internet connection you can depend on GeoData Explorer's offline data support!